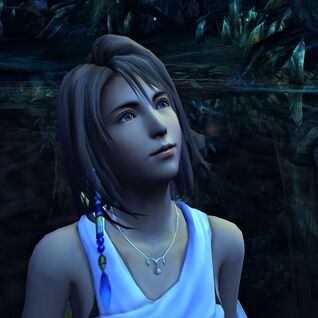 Yuna (ユウナ Yūna) is from Square Enix's Final Fantasy series. She was first introduced as the female protagonist and one of the main playable characters of the 2001 role-playing video game Final Fantasy X, appearing as a summoner embarking on a journey to defeat the world-threatening monster Sin alongside her companions, including the male protagonist Tidus. Yuna reappears in Final Fantasy X-2, where she becomes the main protagonist, searching for a way to find Tidus two years following his disappearance. Yuna has also been featured in other Square Enix games, notably Dissidia 012 Final Fantasy.
Tetsuya Nomura based Yuna's overall design on hakama, but also wanted to give her outfit something that would flow and so gave her a furisode. Nomura said that her name carried the night in the Okinawan language in contrast to Tidus, which translates to sun. For Final Fantasy X-2, the game's staff wanted Tetsu Tsukamoto to redesign her costume to reflect her personality and the game's atmosphere. Yuna's character was well received by many media critics and fans and in particular praised for her relationship to Tidus, as well as her characterization and sex appeal. Despite this positive reception, there was a mixed reception for her role in Final Fantasy X-2 due to her redesign.
Community content is available under
CC-BY-SA
unless otherwise noted.